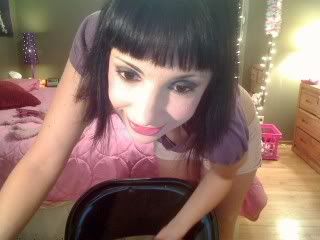 Behold, my metal folding chair and my new hair. Now, I solicit your opinion on the following:

Boyfriend comes over without asking. I was hoping he would ask, because I had the beginnings of a puking headache, and I really wanted to curl up on the couch with a heaping bowl of mashed potatoes in front of Jerseylicious. He does not care for Jerseylicious and makes heaving sighing noises all throughout, despite my quiet and respectful viewing of "space westerns" and anime at his place of residence for hours on end. My puking headache is half caused by being in the throes of starvation, and when he offers to bring Arby's over, I am more than pleased. I set the box of instant mashed potatoes back in the cupboard and return to the couch to wait.

Half hour later he arrives. I kiss him hello and look in the bag. "You ate all your curly fries," I said playfully.

"I ate yours too," he responded.

>:[

What?!

W.

T.

F.

I pulled the empty box from the bag with my heart in my flip flops. This is worse than him constantly sitting on the boothe side when we are dining out, leaving me to sit in the cold, hard chair as if he is a girl.

"It was a long drive," he offered, perhaps seeing the look on my face. Then he moved on to groaning at the sight of Jerseylicious on the television. Conversation over. As if nothing had happened. As if he had not eaten my curly fries. I felt like Julia in The Wedding Singer when she is made to sit on the aisle side of the airplane by her fiancé and whacks her elbow on the refreshment cart. Hurt, in other words.

I am trying to neither be confrontational nor passive aggressive, but it's hard. Especially the latter. Nightly, I consider picking up Jimboy's Tacos and consuming his beloved churros before arrival. Very, very tempted.